Al Robertson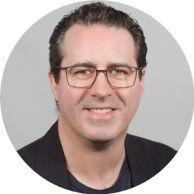 I'm a strategist, copywriter and writing coach. I can future proof your brand by transforming your brand language.
If you already know what you need to say, then I'll find the right words to say it. If you don't, I can help you pin down a new brand personality, tone of voice and content strategy. And if you want to create your own content, I can train you and your people up to write much more impactfully with much less stress and hassle.
Over the years, I've helped organisations like Ronseal, the British Council, Twinings, Ford, Vodafone, Mastercard, Legal & General and many others with some or all of that. And it's not all been big projects – I'm very happy to facilitate breakout sessions, deliver short, sharp training, creative or strategic workshops, write one-off pieces of content and take on individual editing commissions too.
When I'm not bringing clients' brands to life I tell my own stories. I've published two science fiction novels with Gollancz and am the writer-in-residence at Brighton tech hub the FuseBox, exploring how SF thinking can spark real world innovation.
Telling your brand as a story helps the right people understand exactly why they need you. Here's me explaining how to do just that in a short, sharp 15 minutes. Perfect for your next coffee break!