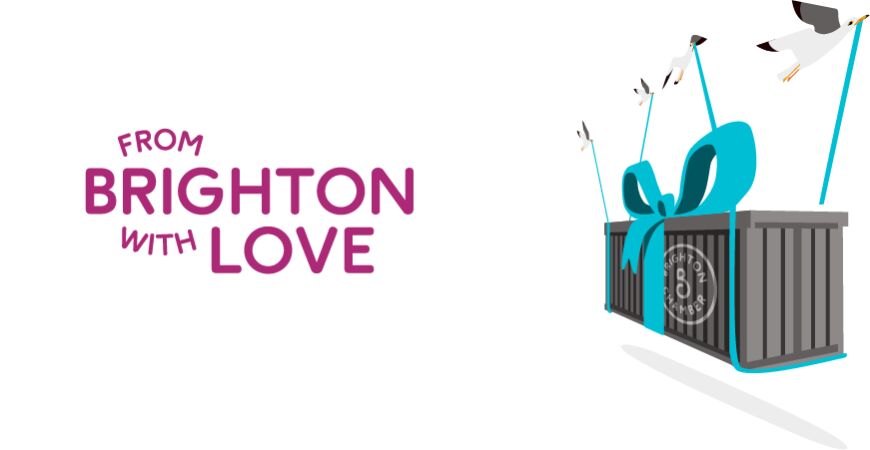 What's it all about?
From Brighton with Love is a package of support designed to help businesses through EU transition and give them the confidence to embark on international trade.
It includes a series of expert panel events, Your Questions Answered sessions, and Export Leaders peer network sessions. The programme focuses on topics including exporting and importing, supply chains, employment issues post-Brexit and more.
It is practical support, delivered by people who are already doing it well. You can ask the questions you want and build the resilience you need to grow your business going forward.
This new initiative is led by Brighton Chamber and supported by Brighton & Hove City Council with event partner Brighton & Hove Economic Partnership. Its aim is to provide Brighton area businesses with expertise that will see them through the EU Transition and beyond.
All sessions will be held virtually, are open to all, and are free to attend.
What's the first panel event?
Taking Brighton business global - 15 December, 10.00 - 11.30
Exporting your products or services can be a pivotal point in your business journey. Find out why, how to do it, and who can help you. There will be plenty of take-aways, practical examples of successes and failures, and inspiration and motivation to get you to think global.
For more info and to book

What are the Your Questions Answered sessions?
These sessions give you 60 minutes with an expert on a specialist topic. Attendees will have the opportunity to ask questions and will come away in the knowledge that they have all the essential facts and understood the key issues that relate to their business. See below for details of the first session.
Your Questions Answered (virtual): The UK Immigration Points-Based System after Brexit
17 December, 1.00 – 2.00
Led by Dr Peter Walsh, Researcher at the Migration Observatory, University of Oxford.

From 1 January the new Immigration system will come into effect. Employers that employ non-UK nationals or plan to, will have new considerations to action. The policy has a number of moving parts and at this session we'll be unpicking these and exploring the consequences for businesses.
For more info and to book

How do I join the Export Leaders session?
An opportunity to join a group of people leading the drive for exports within their organisations and learn from and support each other. Sessions are facilitated by Export Champion, Pete Jenkins who will help you draw on the groups' diverse export and business expertise and experience in a confidential environment. Each meeting will focus on real export challenges.
The launch session is on 19 January, 10.00 – 12.00. Groups will run fortnightly in Jan - March and monthly from April - June. These peer network sessions will run for six months.