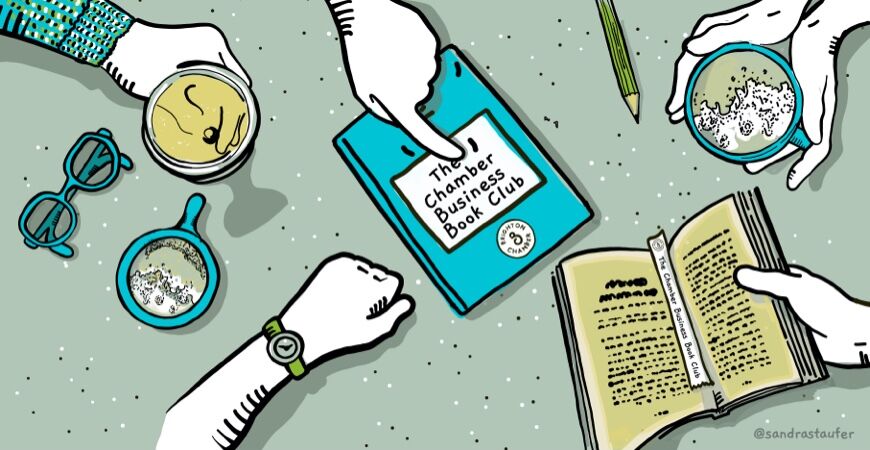 Have you got a stack of business books that you've never quite got round to reading?
Are you interested in new ideas to grow and develop yourself and your business?
We're excited to announce the launch of our new Chamber Business Book Club. It's for people who love to learn, want to get new perspectives on business and personal development – and would also like to meet other likeminded individuals.
Being part of the Business Book Club will get you delving into that pile of books – and introduce you to new titles that are not yet on your reading list.
We're going to organise three or four Business Book Clubs a year, hosted on Zoom (for now). Head of Member Engagement, Amy Lishman will facilitate the discussion and ask you to reflect on some thoughts and questions about the themes and topics in the book.
We'll send you a synopsis of the book a couple of weeks in advance, to get you thinking about what you might contribute on the night.
Our first book is Rebel Ideas by Matthew Syed.
Syed looks at the power of 'cognitive diversity' – the ability to think differently about the world around us. Rebel Ideas can help strengthen any team or organisation but has dozens of personal applications too, from the art of personal reinvention to the remarkable benefits of personalised nutrition.
It's full of fascinating case studies and observations that will make you think differently about diversity and its real potential.
So why not grab yourself a drink, get comfortable and join us online for an hour of thought-provoking book and business chat.
You can buy the book from any good retailer. City Books has an excellent selection of business books. You can buy over the phone from them or online through https://uk.bookshop.org/shop/city-books Bookshop.org is an online bookshop that supports independent bookshops.
Illustration by Sandra Staufer .
FAQs
What's the refund policy?
Places are limited, and events are usually oversubscribed. Please give two working days' notice via email for a refund* or you'll be required to pay for your place in full.
*Eventbrite booking fees are non-refundable unless the event is cancelled or there are duplicate charges.
Can I attend if I am not a member of the Chamber?
If you have never been a member of the Chamber you can book and join as a guest at two of our events (just one Chamber Breakfast). After this, you will need to join the Chamber to enjoy the benefits of membership. If you'd like to join the Chamber you can find out more on our website.
How do I find out about other upcoming events and news?
To receive news about the Chamber and our events please sign up to our mailing list.
Time: 5pm - 6.15pm
Date: Wed 12 / 05 / 21
Name: The Chamber Business Book Club
> Book now
Similar events