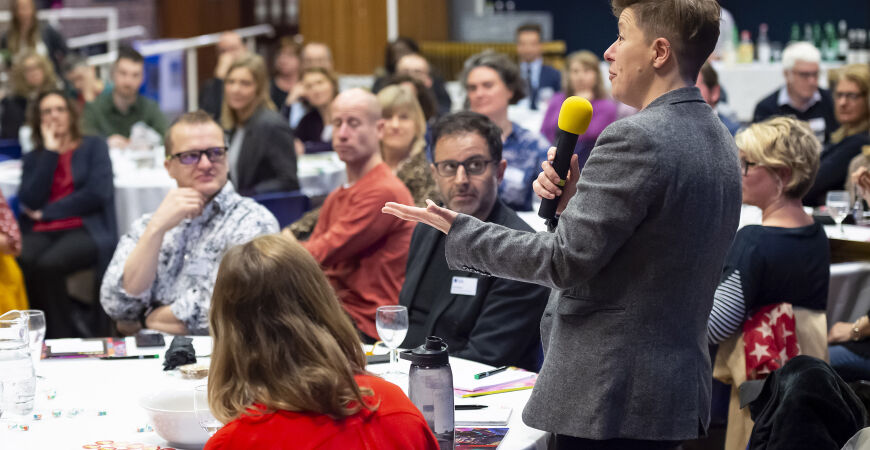 In 1929, at the heart of The Great Depression, two brothers who ran a tiny animation studio realised that cartoons were a good way to cheer people up.
In 2008, the global economy was on its knees. But as many floundered, a new kind of holiday rental business, a discount voucher company and a free, encrypted messaging service saw the potential of people saving money by connecting differently.
What are the insights that convinced the brains behind Disney, Airbnb, Groupon and WhatsApp to move when others had stopped?
To many, 2021 doesn't feel like a good time to start or build a business. Finding investors, resources and staff remotely makes a hard job much harder. Market research gets quickly out of date, the high streets are shut and shifting government policies make it difficult to keep up.
To others, necessity is the mother of invention - and many businesses have adapted, and entrepreneurs have emerged, to solve new problems and create meaningful work. Countless companies have been turning much-loved services into online products, finding their innovative USP and helping their customers to navigate through lockdown.
Brighton might have bags of ideas and creativity, but does it have the resilience to bounce back bigger and bolder than before? Sussex has seen record figures for new registered businesses and self-employment in the past 12 months, but is there the infrastructure and support needed to protect existing viable businesses, let alone promote new ones?
What are the challenges we face and the opportunities being seized? Why are so many taking the plunge at this time?
In the next Big Debate, we'll be asking whether there are ever optimal conditions to start, buy or grow a business - or if the best time is always now.
Our chair:
Richard Freeman, CEO, always possible
Panellists include:
What to expect:
Lightning talks from our expert panellists
Open discussion with the opportunity to ask questions
The opportunity to network and discuss questions relevant to the topic in small, facilitated groups
Hartley Fowler LLP is chartered accountants, registered auditors and tax advisers based in Wimbledon and Brighton. We provide a personalised accountancy service to business owners and individuals. For assistance with any of your accountancy, taxation and business support requirements please give us a call.
FAQs
What's the refund policy?
Places are limited, and events are usually oversubscribed. Please give two working days' notice via email if you are no longer able to attend.
Can I attend if I am not a member of the Chamber?
The Big Debate is open to both members and non-members of the Chamber.
How do I find out about other upcoming events and news?
To receive news about the Chamber and our events please sign up to our mailing list.
Time: 3pm - 5pm
Date: Tue 25 / 05 / 21
Name: The Big Debate: Could this be the best time to start or build a business in Brighton? (virtual)
> Book now
Similar events