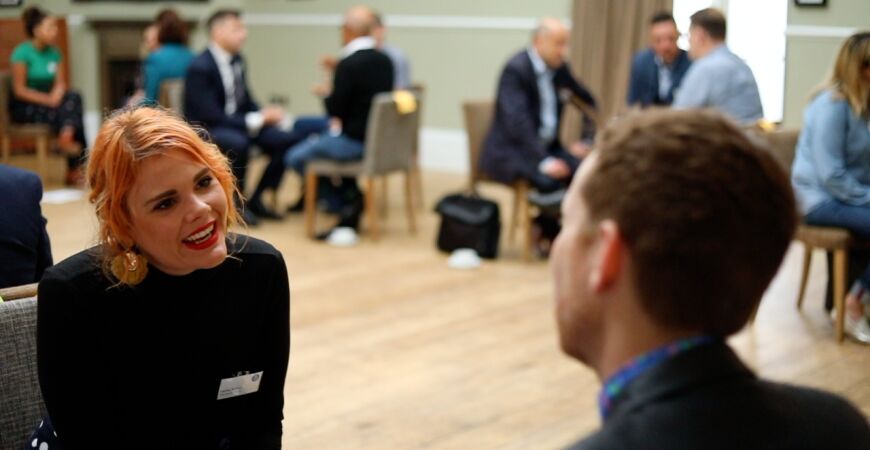 Do you like the concept of speed networking but find it a bit too, well…speedy?
How about a structured and business-focused event that is still enjoyable and at a more relaxed pace?
With the help of a group of our members, we have designed and introduced Slo-mo Networking because we know that some of you like a structured approach to your networking. This means you can focus the conversation on your business.
At these Slo-mo events, we'll facilitate quality introductions to people who want to meet you and are looking to make useful connections (but without bell ringing or rushing around!)
What to expect
There'll be small groups and you'll move around every twelve minutes.
You'll have an opportunity to share your business journey with like-minded people, answering key questions to help you create meaningful connections.
There'll be coffee and treats to keep you going.
It's perfect if you want to build your network efficiently and be sure to spend your time productively.
Copy by: Lauren Psyk
Thanks to our sponsor: Barclays Eagle Lab Brighton

Barclays Eagle Labs is a national platform that connects and supports the entrepreneurial ecosystem, creating opportunities for ambitious business founders and giving them access to a broad range of skills and services to help their business grow.
Eagle Labs started by taking over under-used Barclays branches and offices and converting them into thriving spaces tailored to the needs of the local businesses, creating a hub for sharing ideas, experiences and encouraging collaboration and innovation. They provide access to a network of mentors, partners and experts - all positioned to help members' businesses to grow, with exposure and access to technologies that make up Industry 4.0 to enable future skills development, offering rapid prototyping and product development to help get products to market quicker.
FAQs
What's the refund policy?
Places are limited, and events are usually oversubscribed. Please give two working days' notice via email for a refund* or you'll be required to pay for your place in full.
*Eventbrite booking fees are non-refundable unless the event is cancelled or there are duplicate charges.
Can I attend if I am not a member of the Chamber?
If you have never been a member of the Chamber you can book and join as a guest at two of our events (just one Chamber Breakfast). After this, you will need to join the Chamber to enjoy the benefits of membership. If you'd like to join the Chamber you can find out more on our website.
How do I find out about other upcoming events and news?
To receive news about the Chamber and our events please sign up to our mailing list.
Time: 9am - 11am
Date: Thu 09 / 06 / 22
Name: Slo-mo Networking (in person)
Venue: Hilton Brighton Metropole (Chartwell Suite)
Location: Kings Road, Brighton, BN1 2FU
> Book now
Similar events