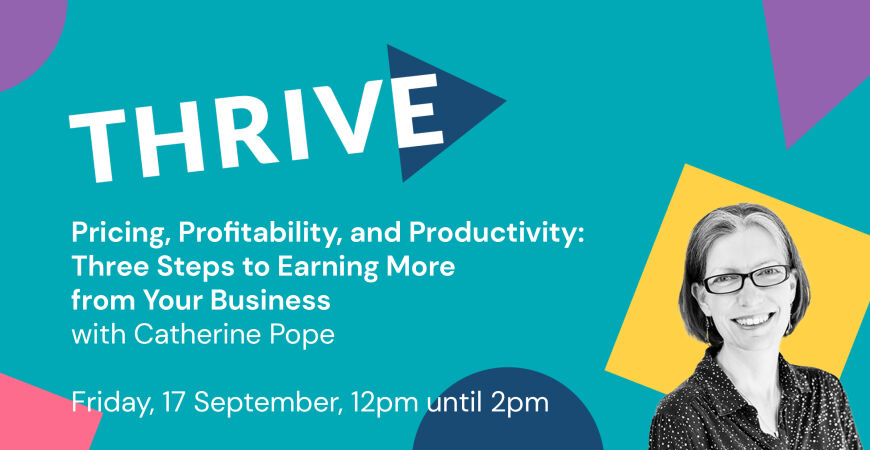 'Pricing, Profitability, and Productivity: Three Steps to Earning More from Your Business' is the third in a new series of online workshops, hosted by Thrive, made possible with the support from Enjoolata Foundation.
What is this workshop about?
You probably didn't start a business so you could work all the time. Although being self-employed gives you more control, you are responsible for everything. Sometimes it feels as though the only way to earn more money is to work longer hours. No!
In this interactive workshop, you will learn how to build a sustainable business that supports you. Instead of finding ways to work longer and harder, you will discover a better approach.
We will cover:
- Creating a pricing strategy that supports you and your business
- Using automation to save time and improve profitability.
- Diversifying your income with digital and print-on-demand products.
Through short talks, discussions, and group work, you will realise the true potential of your business.
By the end of this workshop, you will have:
- A clearer sense of your financial priorities.
- Practical insights on streamlining your business.
- A wealth of ideas for diversifying and increasing your income.
Who will deliver this workshop?
Catherine Pope is our Workshop Leader. Catherine has enjoyed a diverse career as a web developer, university lecturer, and financial coach. She's now bringing it all together by helping small business owners to build a sustainable income through technology. You can find out more at www.catherinepope.com.
Why women only?
This workshop is open to anyone who identifies as being a woman or a non-binary person.
This workshop is part of a range of business support initiatives delivered by Thrive - a social enterprise on a mission to bring together female founders, social entrepreneurs and women in business so that they gain the knowledge, connections and confidence they need to grow a resilient, small business - whatever their growth ambitions.
How do I get a ticket?
Tickets are free, thanks to the generous support of Enjoolata Foundation.
Booking is essential. The Zoom link to attend the event will be shared with everyone who books a ticket via Eventbrite. This session will NOT be recorded.
Time: 12pm - 2pm
Date: Fri 17 / 09 / 21
Name: Pricing, Profitability, and Productivity: Earning More from Your Business
Venue: Zoom
> Book now