Thu 25 / 07 / 19
Leading with Purpose
Campfire Catalyst for Business Leaders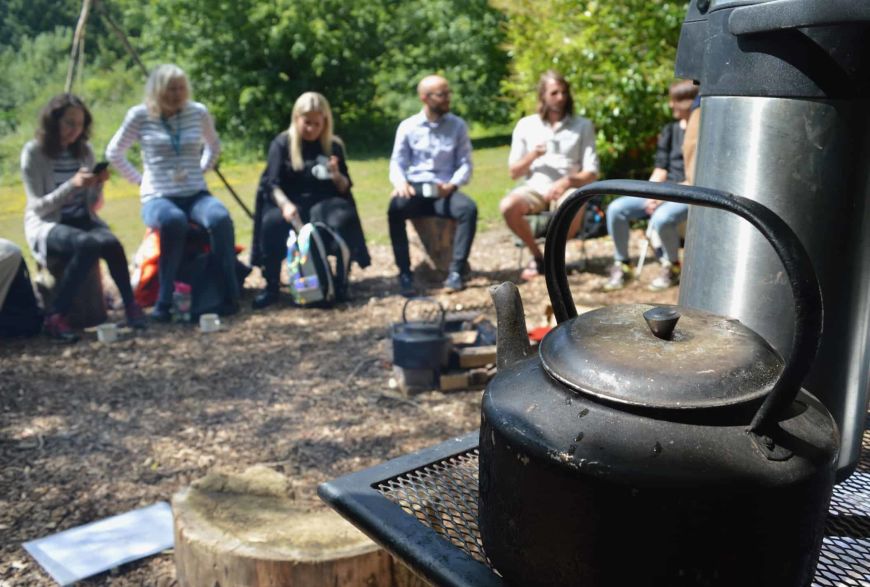 At the start of this year, we decided to launch some sessions to explore 21st-century leadership challenges - of how you lead with meaning and purpose in an increasingly uncertain world.
Inspired by Greta Thunberg, the 16-year-old Swedish schoolgirl, we wondered how much could business leaders achieve if we put our minds to it?
And as short-term thinking is not great for business anymore, what new kind of leadership do we need to solve this and other 21st century challenges?
So we started inviting a group of likeminded business founders, leaders, and pioneers, with a plan to co-create the session with each other and with nature to help us look at the bigger picture and what we could do about it.
We call it Campfire Catalyst.
We're running a new Campfire Catalyst on Thurs 25th July - it'll be the sixth one.
(If you'd like to join, pls RSVP below)
Campfire Catalyst is a 2.5-hour immersive session around the fire. We run an activity to help you explore leadership issues from a different perspective, and use nature to spark creative thinking on the bigger questions about the world as it is now.
It's also a chance to network with other leaders at a deeper level and do some peer-to-peer sharing.
The session is for a max of 10 business founders, pioneers and leaders.
Time: 2.45pm to 5.30pm (please arrive by 2.40pm)

Location: A self-contained site within Stanmer Park - there'll be a fire, hot drinks, and cover available in case it's wet. Meet infront of Stanmer House.

(We send out more info on where to meet etc to attendees a few days beforehand)
Price:
The standard price is £45, however, you may feel £45 is too much for your budget, or you may be able to contribute more. So we offer a sliding price scale between £30 and £60, so you can contribute an amount that's right for you.
Who else is coming?

So far 34 other leaders have been along to a campfire.
Other attendees will include entrepreneurs, creative agency owners, consultants, senior leaders and business pioneers.
Feedback from previous attendees:
"It was quite something, really. I'd highly recommend it - as a leader, a founder, an individual, with your team. Whatever your reason. It gave us all the freedom to talk and share, removed the restrictive confines of buildings and meeting rooms - and not a post-it note or whiteboard in sight!"
Bonamy Waddell, Bon Insight"
"The best way to describe it is "Business unplugged"… I left the group with renewed commitment and some new ideas to explore, excellent value and an experience I would recommend."
Steve Creed
"100% recommend."
Alice Reeves, Joyful Web
"I felt my barriers came down… this event was more honest, more human and more personal. And therefore I made better connections."
Lauren Psyk
Time: 2.30pm
Date: Thu 25 / 07 / 19
Name: Leading with Purpose
Venue: Stanmer Park
Location: Stanmer, Brighton BN1 9QA, UK
> Book now