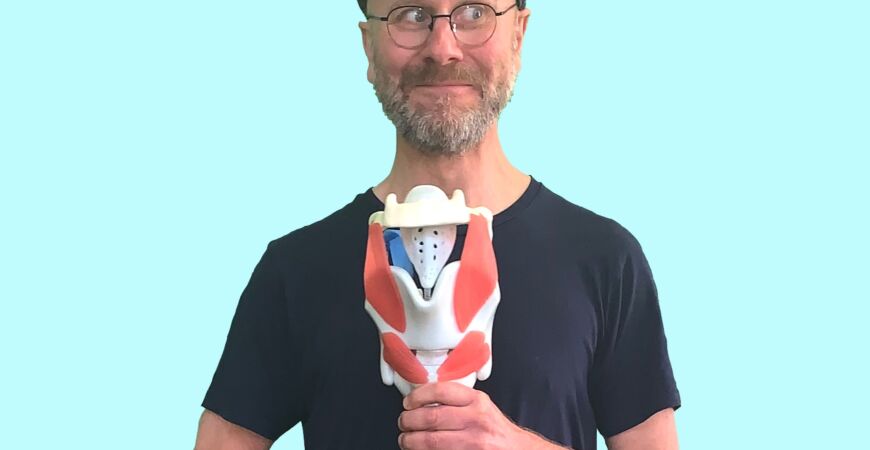 We will explore the 13 figures for voice and also the 6 voice qualities: Speech, Falsetto, Sob, Twang, Opera and Belt.
Limited to a maximum of 15 people, it's a safe space for exploration with opportunities for individual coaching throughout the session (but there's no pressure to participate!). At the end there will be a chance to ask questions.
Estill Voice Training offers speakers and singers solutions to realise their full vocal potential (e.g. overcoming breaks in the voice, controlling dynamics and vibrato, increasing range, belting safely and more). It's a scientific approach with emphasis on training structures of the voice in isolation for maximum artistic freedom.

Who the session is aimed at
The session welcomes anyone who wants to learn more about how the voice works. It is especially helpful for those who use their voices professionally and want to improve their craft through practice and training (e.g. singers of all genres, actors, voice teachers, choral directors, speech and language therapists, public speakers, etc.).
This workshop is also excellent as preparation for one-to-one voice lessons with a certified Estill instructor or as a chance to dip your toe before committing to an Estill Level 1 and 2 course.
By the end of the workshop, participants will have:
had an anatomical overview of the voice




learned about the physiology and function of the voice




explored the concepts of effort and attractor states in the Estill Model




explored all 13 Estill figures for voice and the 6 Estill voice qualities




been offered the opportunity for individual coaching and expert feedback




gained an overview of the Estill Model



Cost
Full price: £65
Early Bird: £55 by 10 July 2021
Time: 2pm - 6pm
Date: Sat 24 / 07 / 21
Name: Introduction to Estill Voice Training
Venue: Online
> Book now