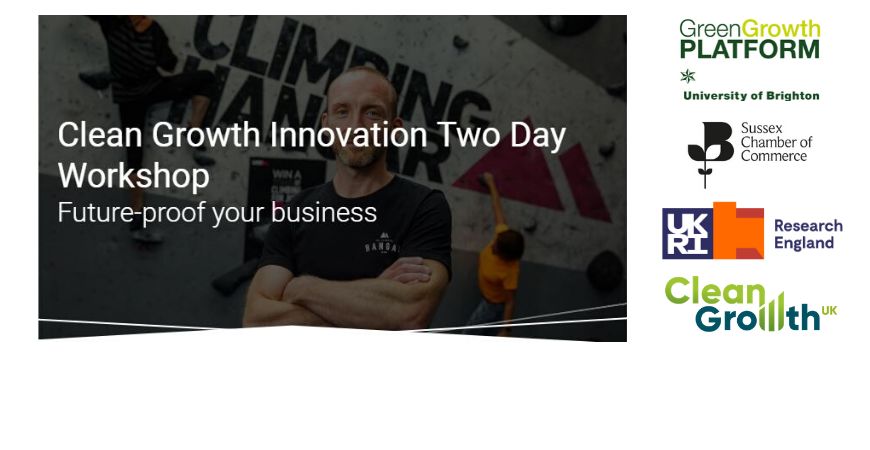 Clean Growth Innovation is the development of any new and improved product, process, business model or service that reduces your impact on the environment.
Reducing your environmental impact isn't just about protecting the planet for future generations. It drives down costs, increases profits, improves employee morale and gives your marketing a new angle.
At this FREE two day workshop you'll do a deep-dive into your business under the expert guidance of Ian Trow, MD of Energy and Automation.
Run by the Green Growth Platform, Clean Growth UK's South East Hub, in partnership with Sussex Chamber of Commerce.
You'll cover…
- Energy saving and generation
- Process automation
- Clean and green new product and service innovation
- Supply chain management
- Business energy and productivity auditing
- Staff engagement and business strategy
Free follow up sessions with Ian will also be available for those of you who want some 1-2-1 one day support in taking bigger projects forward.
When?
Day 1: 21 May 2020, 9.30am – 4.30pm
Day 2: 18 June 2020, 9.30am – 4.30pm
Where?
Aldingbourne Trust, Chichester
How much?
FREE
Who's it for?
This workshop is for Clean Growth UK members only and focused on developing clean and green business innovation. It's for any SME leader in any sector who wants to do things differently and is developing new clean and green products, services or processes.
Join Clean Growth UK here – it's free!
Anything else?
There's ample parking, refreshments and pastries will be waiting for you on arrival, and lunch is provided.
Time: 9.30am - 4.30pm
Date: Thu 21 / 05 / 20
Name: FREE Clean Growth Innovation South East 21 May + 18 June 2020
Venue: Aldingbourne Trust, Chichester
Location: Aldingbourne Country Centre, Blackmill Ln, Norton, Westergate, Chichester PO18 0JP, UK
> Book now