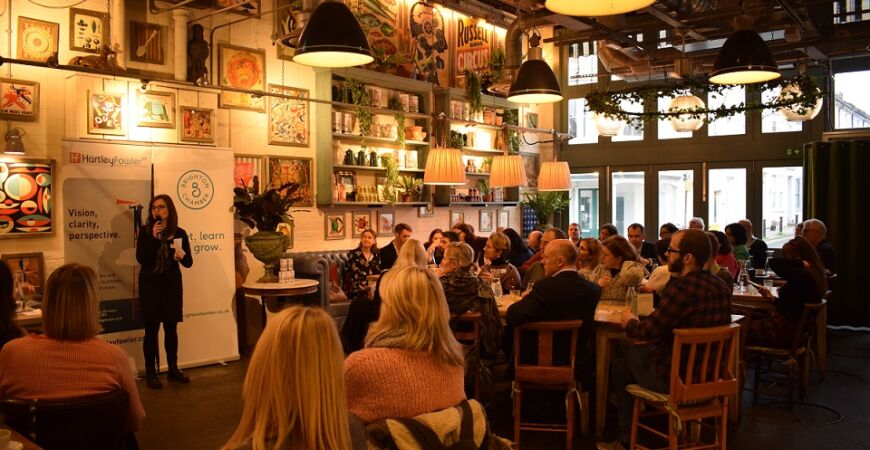 The 'Greek business' Breakfast
Join us once again for another of our ever-popular, inspirational breakfasts.
This month's speaker is Kyriakos Baxevanis, Managing Director of Little Jasmine Therapies and Spa in Brighton and Hove, and Nostos, Hove.

Born in Thessaloniki, Greece, Kyriakos studied in Greece, Canada, and the UK, gaining a BA (Hons) in Business Economics. He went to Brighton University and graduated with an MBA in International Management Business Administration.
Kyriakos worked for various international companies including American Express in Brighton before setting up Little Jasmine Therapies and Spa in 2008, a day spa that fuses traditional and contemporary body and facial spa treatments. This business expanded with a second location in Hove in 2017. Last year, Kyriakos co-founded contemporary Greek restaurant Nostos.
Kyriakos will be interviewed by James Dempster, MD at Cobb Digital, and he'll talk about how he made the transition from being an employee to an employer, and how his experience and business expertise led to two seemingly disconnected enterprises became part of his growing empire.
Kyriakos will explain the importance of a growth mindset and lifelong learning for personal and professional development. He'll also share with us practical advice for aspiring and current entrepreneurs.
In his spare time, Kyriakos is an amateur photographer. He's also a black belt in the martial art of Tae-Kwon-Do so we'd better keep on his right side!
We look forward to seeing you online for this event, where you can delight at not having to leave the comfort of your own home or office, minimise your carbon footprint, and start your Friday the Chamber way!
Copy by Chimera Communications
If it is your first breakfast or you haven't attended in a while the Chamber team are always on hand to make introductions.
Hartley Fowler LLP is chartered accountants, registered auditors and tax advisers based in Wimbledon, Horsham and Brighton. We provide a personalised accountancy service to business owners and individuals. For assistance with any of your accountancy, taxation and business support requirements please give us a call.
FAQs
What's the refund policy?
Places are limited, and events are usually oversubscribed. Please give two working days' notice via email for a refund* or you'll be required to pay for your place in full.
*Eventbrite booking fees are non-refundable unless the event is cancelled or there are duplicate charges.
Can I attend if I am not a member of the Chamber?
If you have never been a member of the Chamber you can book and join as a guest at two of our events (just one Chamber Breakfast). After this, you will need to join the Chamber to enjoy the benefits of membership. If you'd like to join the Chamber you can find out more on our website.
How do I find out about other upcoming events and news?
To receive news about the Chamber and our events please sign up to our mailing list.
Time: 9am - 10.45am
Date: Fri 25 / 09 / 20
Name: Chamber Breakfast September (virtual)
> Book now
Similar events