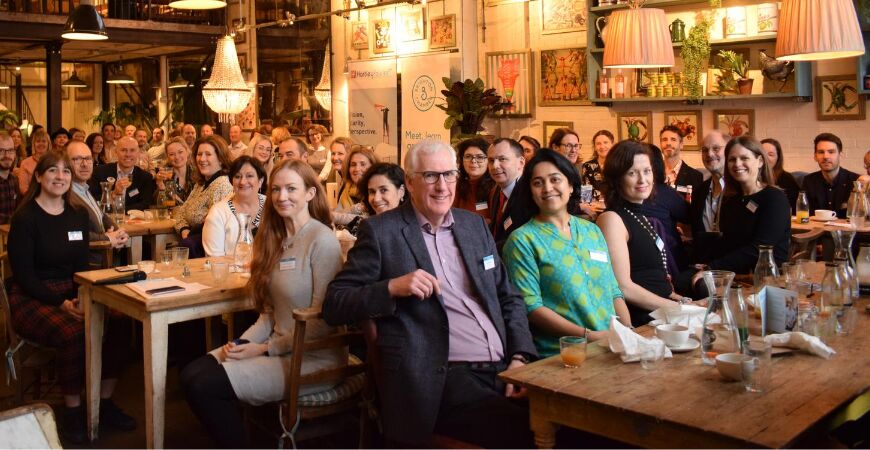 The '(2)3D' Breakfast
We're back! We're thrilled that our monthly breakfasts will be in person again from September. Our first 3D speaker of this new era is, ironically, the founder and MD of 23D.
Like many of our most interesting speakers, Marc Convey has taken a somewhat unconventional route to get to where he is today. He overcame trauma as a teenager before going on to get a degree in business. He played poker semi-professionally and then neatly combined his twin loves of poker and travel by crisscrossing the globe for a decade, blogging, producing and commentating on poker tournaments.
He then spotted a gap in the market for a certain kind of media production and founded 23 Digital, now renamed 23D. The company moved away from the world of gambling to create films for businesses that need to market the good that they are doing.
Marc says the pandemic taught him the importance of aligning your personal values with those of your business. But it took devastating revenue loss, a major pivot, two rebrands in six months and, marvellously, a eureka moment in the shower to set him on the path he's on today.
So come join us in September when we'll be delighted to see you once again. No poker faces though, please!
Copy by The Sentence Works
About Chamber Breakfasts:
The Chamber's monthly* Breakfast at Bill's is very popular, so you'll need to book early. 40 to 60 business people from Brighton and the surrounding areas come together to meet, eat and network on the fourth Friday of each month.
There is a wide range of people who attend from all sectors and all sizes. From sole traders and start-ups to some of the biggest businesses in the city.
Each month there is a guest speaker, who talks about their own experiences of running a business and their own personal journey.
What you can expect:
Enjoy an excellent breakfast with like-minded people.
Make new connections through our informal networking.
Get an introduction if there's someone you'd like to meet.
Find new local customers and suppliers.
If it is your first breakfast or you haven't attended in a while the Chamber Ambassadors are always on hand to make introductions.
*At least one breakfast a quarter will be at a different venue around Brighton, Chamber Breakfasts are held on the fourth Friday of each month, except in August and December when they are slightly earlier.

The Business Hothouse is an £11 million business support programme funded through HM Government and the ERDF. It provides free business advice, guidance, workshops, mentoring and intensive boot camps to any business or resident in the coast-to-capital area. Its team of experts focus on giving you the knowledge to: successfully start a business; increase your business' productivity; develop as a leader and manager; prepare a new product or service for successful market launch; access and apply for business finance and funding.
The Business Hothouse also has its own £2.65 million grant fund, Invest4, which awards up to £5k to start-ups and up to £170k to growing businesses. You can find out more about the Invest4 fund here.

FAQs
What's the refund policy? Places are limited, and events are usually oversubscribed. Please give two working days' notice via email for a refund* or you'll be required to pay for your place in full.
*Eventbrite booking fees are non-refundable unless the event is cancelled or there are duplicate charges.
Can I attend if I am not a member of the Chamber? If you have never been a member of the Chamber you can book and join as a guest at two of our events (just one Chamber Breakfast). After this, you will need to join the Chamber to enjoy the benefits of membership. If you'd like to join the Chamber you can find out more on our website.
How do I find out about other upcoming events and news? To receive news about the Chamber and our events please sign up to our mailing list.
Time: 7.45am - 9.30am
Date: Fri 24 / 09 / 21
Name: Chamber Breakfast September 2021 (in person)
Venue: Bill's Brighton
Location: The Depot 100 North Road, Brighton, BN1 1YE
> Book now
Similar events