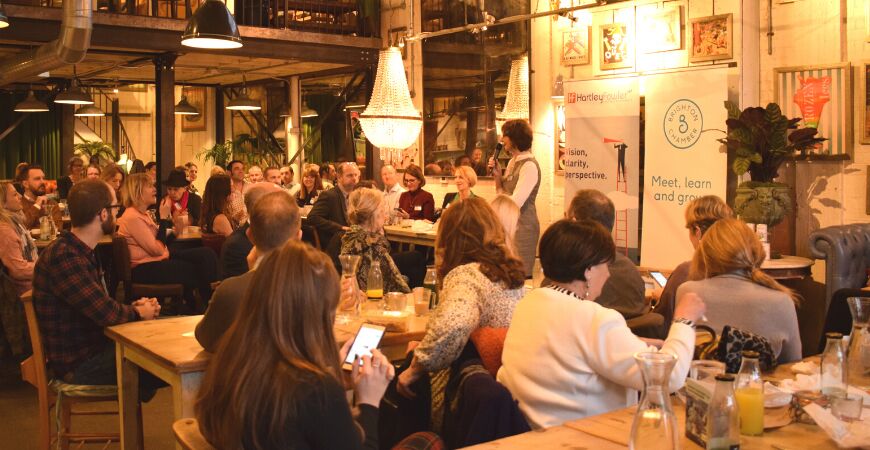 The 'Put that phone down' Breakfast
Ever spent the Brighton to London train journey daydreaming? Of course you have – but for Hazel Reynolds, it led to a new business, the Dragon's Den and the Amazon Small Business of the Year award.
Hazel was commuting to the Big Smoke when she came up with the idea that eventually became Gamely. The company creates card games designed to get people to put their phones down and spend quality time laughing with family and friends instead. More than a quarter of a million games, which have tantalising titles including Soundiculous and Jibbergiggle, have been sold to date.
Gamely, which employs just five people, doesn't believe in doing things the conventional way. Hazel ran it on half an hour a day for six months and says her having a baby was good for the business. The company's motto is 'Have fun. Do good' - an approach she believes has contributed to its success.
At our October breakfast, Hazel will discuss how she built a thriving business on Amazon and why Brighton is one of the best places to come up with new ideas. So take a screen break on Friday 22 October and come and join us there.
Copy by The Sentence Works.
About Chamber Breakfasts:
The Chamber's monthly* Breakfast at Bill's is very popular, so you'll need to book early. 40 to 60 business people from Brighton and the surrounding areas come together to meet, eat and network on the fourth Friday of each month.
There is a wide range of people who attend from all sectors and all sizes. From sole traders and start-ups to some of the biggest businesses in the city.
Each month there is a guest speaker, who talks about their own experiences of running a business and their own personal journey.
What you can expect:
Enjoy an excellent breakfast with like-minded people.
Make new connections through our informal networking.
Get an introduction if there's someone you'd like to meet.
Find new local customers and suppliers.
If it is your first breakfast or you haven't attended in a while the Chamber Ambassadors are always on hand to make introductions.
*At least one breakfast a quarter will be at a different venue around Brighton, Chamber Breakfasts are held on the fourth Friday of each month, except in August and December when they are slightly earlier.
Thanks to our event sponsor - Mayo Wynne Baxter

Mayo Wynne Baxter are a little different to other law firms; not only are we good at getting things done for our clients, but we are also friendly, lovely people too. We have specialist solicitors in most areas of the law which means we can get the outcomes you need and when you need them even during these difficult times. We are here for you and your business.
FAQs
What's the refund policy? Places are limited, and events are usually oversubscribed. Please give two working days' notice via email for a refund* or you'll be required to pay for your place in full.
*Eventbrite booking fees are non-refundable unless the event is cancelled or there are duplicate charges.
Can I attend if I am not a member of the Chamber? If you have never been a member of the Chamber you can book and join as a guest at two of our events (just one Chamber Breakfast). After this, you will need to join the Chamber to enjoy the benefits of membership. If you'd like to join the Chamber you can find out more on our website.
How do I find out about other upcoming events and news? To receive news about the Chamber and our events please sign up to our mailing list.
Time: 7.45am - 9.30am
Date: Fri 22 / 10 / 21
Name: Chamber Breakfast October 2021 (in person)
Venue: Bill's Brighton
Location: The Depot 100 North Road, Brighton, BN1 1YE
> Book now
Similar events