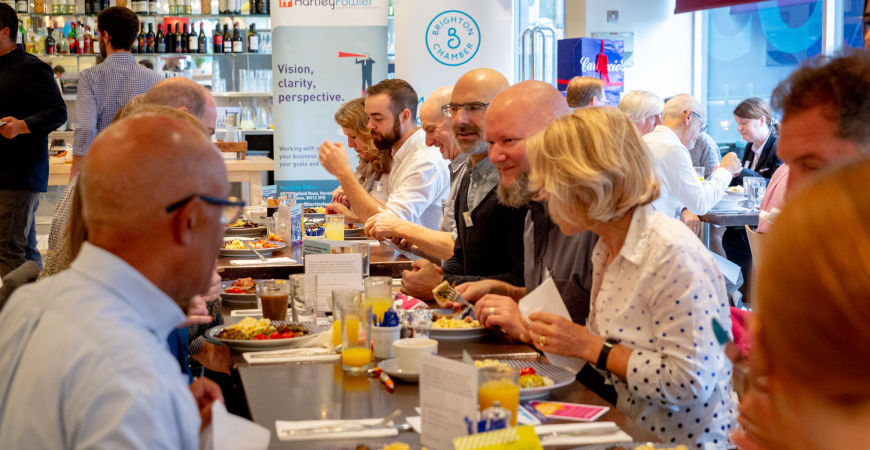 The 'Making the Leap' breakfast
Next year is a leap year, which means you have a whole extra day to spend on your business/ indulge yourself/ train for a marathon/ tile the bathroom. (Delete as applicable).
Our February breakfast is the day before Leap Year Day, so it's an apt time to think about making the leap with your business and how to jump forward.
Our speaker is a rare red squirrel – a born and bred Brightonian. Jon Trigg (Cardinal Newman graduate) is the owner of Freedom Works. He got there via a computer selling business which confusingly ended up selling Polish beer, as well as a PR job and a fantasy sports games company. It meant a number of leaps of faith and other occasions where he admits he should have jumped but didn't.
After learning various lessons along the way (don't commute to London/ do make sure everyone on your team shares common goals), he launched Freedom Works three years ago. The business, which offers co-working and flexible office spaces in regional towns, has four spaces and plans two more in early 2020.
So, leap into action and sign up for our February breakfast. Jump to it!
Copy: The Sentence Works
Thank you to our event sponsor:

Hartley Fowler LLP are chartered accountants, registered auditors and tax advisers based in Wimbledon, Horsham and Brighton. We provide a personalised accountancy service to business owners and individuals. For assistance with any of your accountancy, taxation and business support requirements please give us a call.
Cancellation policy: Places are limited and events usually oversubscribed. Please give 2 working days' notice via email or you must pay for your place in full.
*Eventbrite fees are non-refundable unless the event is cancelled or there are duplicate charges.
If you have never been a member of Brighton Chamber you are welcome to book and come to two events (just one breakfast) as a non-member. After this, you will need to join the Chamber to enjoy the benefits of membership.
Time: 7.45am - 9.30am
Date: Fri 28 / 02 / 20
Name: Chamber Breakfast February 2020
Venue: Bill's
Location: The Depot, 100 North Rd, Brighton BN1 1YE
> Book now
Similar events