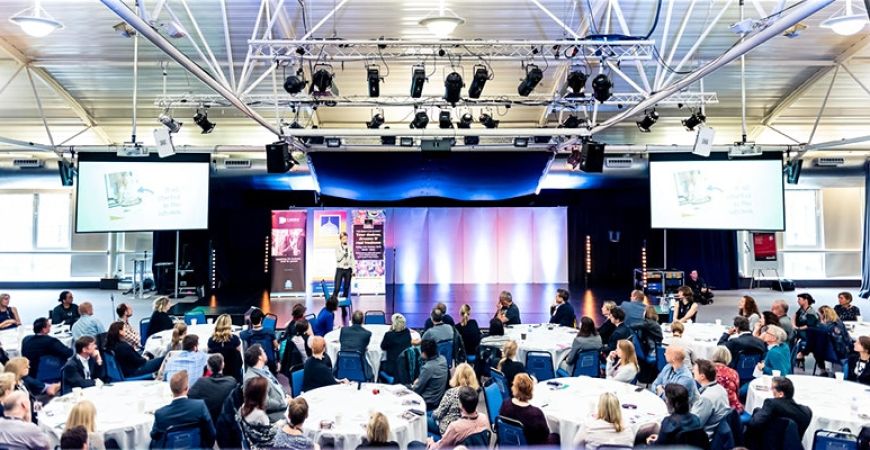 Brighton Summit: Unite

Teaming up, collaborating and helping each other epitomises everything that Brighton Chamber stands for. For many, it also sums up Brighton and Brightonians themselves.
This year's Brighton Summit: Unite, is about how we can link together to improve – well everything really. Our businesses, our lives and those of others. It's about working together in the short or long term to solve problems, while seeing what skills we can offer elsewhere. It's about coming together and accepting that we can't always do everything ourselves.
Brighton Summit will offer you unrivalled opportunities to connect, communicate and combine with like-minded businesses.
It's been a tumultuous few years for businesses in Brighton and beyond, and every year our Summit looks at how you can seize the moment and drive your business forward. In 2018, we explored new ways of working and challenged you to Look up. Last year, we dared you to Crack on, step up and damn well just get on with it. Now we're looking at how we can Unite - to motivate and be inspired, to talk and to listen, to offer help and get it in return.
What is the Brighton Summit?
Bringing together 400 businesses and entrepreneurs from across our city's diverse business community, it's a day for strengthening relationships and forging new ones.
You'll get inspiring speakers, expert-led workshops and energising discussions, with plenty of time for networking built-in at every turn.
The Summit, which is hosted by Brighton Chamber, celebrates the spirit of our open-minded, quirky city which makes it such a dynamic region to live, work and do business in.
Who is the Summit for?
The Summit is for everyone in and around Brighton who wants to evolve and grow their business. Whether you're a big business CEO, a not-for-profit, an entrepreneur or an employee, the Summit is for you.
What will I get from the Summit?
Fresh perspectives. New approaches and ways of working. Skills and techniques to help your company thrive. The tools, confidence and inspiration to do things differently.
A quality of conversation and a bunch of brilliant, like-minded contacts.
It's a day for building connections, entertaining new ideas and leaving your comfort zone in the rear window. It's the most productive and beneficial day out of the office all year.
The Venue
The Summit is hosted by the Clarendon Centre, a hop, skip and jump from Brighton station and very close to the town centre (not that you'll have time for any shopping). The large, open plan ground floor and a sizeable main auditorium makes it easy for everyone to mingle and come together.
There's also a myriad of smaller rooms so we can split into smaller groups for some workshops and talks.
Copy byThe Sentence Works
Illustration bySandra Staufer
Graphic design by Visual Function
Thank you to:
Cardens, our Headline Sponsor

---
Due to limited ticket numbers, Super Earlybird price tickets are limited to two per organisation.
FAQs
What's the refund policy?
Please note Super Earlybird and Earlybird tickets are non-refundable.
Cancellation of all other tickets will entitle you to a 50% refund if cancelled before 11 September 2020 and after which they will be non-refundable.*
However, if you are unable to attend you can transfer your ticket to someone else by changing the name on the booking. Contact events@brightonchamber.co.uk if you wish to do this.
*Eventbrite fees are non-refundable unless the event is cancelled or there are duplicate charges.
Time: 8.30am - 6pm
Date: Fri 09 / 10 / 20
Name: Brighton Summit: Unite
Venue: The Clarendon Centre
Location: 47 New England Street, Brighton, BN1 4GQ
> Book now
Similar events
Tue 26 / 05 / 20
Q&A (virtual): Furlough update, redundancy and employment law
1pm - 2pm
> Find out more
Fri 03 / 07 / 20
The Brighton Chamber AGM (members only)
11am - 12pm
> Find out more