Tue 24 / 09 / 19
Brighton and Hove Soiree Corporate Fundraising Lunch
Cricket Fundraiser
The 1st Central County Ground, Hove
Sussex v Worcestershire
In aid of Chesnut Tree House and other Rotary charities
A great day of sporting entertainment and networking opportunities for local businesses, professional influencers and professional services providers. This will be the 7th annual Charity Cricket Day organised by our Rotary Club. In total, previous cricket events have raised over £45,000 for charitable causes.
Event details
Day 2 of the Specsavers County Championship Match
10:30am: Cricket begins: Tea or coffee on arrival in the comfortable Boundary Rooms, reserved external seating adjacent to the playing area
12:30pm: Delicious 3-course lunch
After lunch, professional comedian Ian Irving entertains. Ian specialises in corporate hospitality, sporting functions and charity fundraisers. He's known for his fresh, original and contemporary humour. Charity raffle and auction. Bar open throughout the day. Guests are welcome to stay until close of play.
Sponsorship opportunities
Main event sponsor:
Two tables of 20 in front of stage
Company name and logo on all literature and menus
Banners at entrance and in dining area
Company literature on all tables
Featured Club social media platforms
Welcome speech at lunch
Table of 10 at £550 per table
Single tickets £55 per head
Contact Robert Griffiths: 07802 580 867
robert712griffiths@btinternet.com
https://www.rotary-ribi.org/clubs/homepage.php?ClubID=1440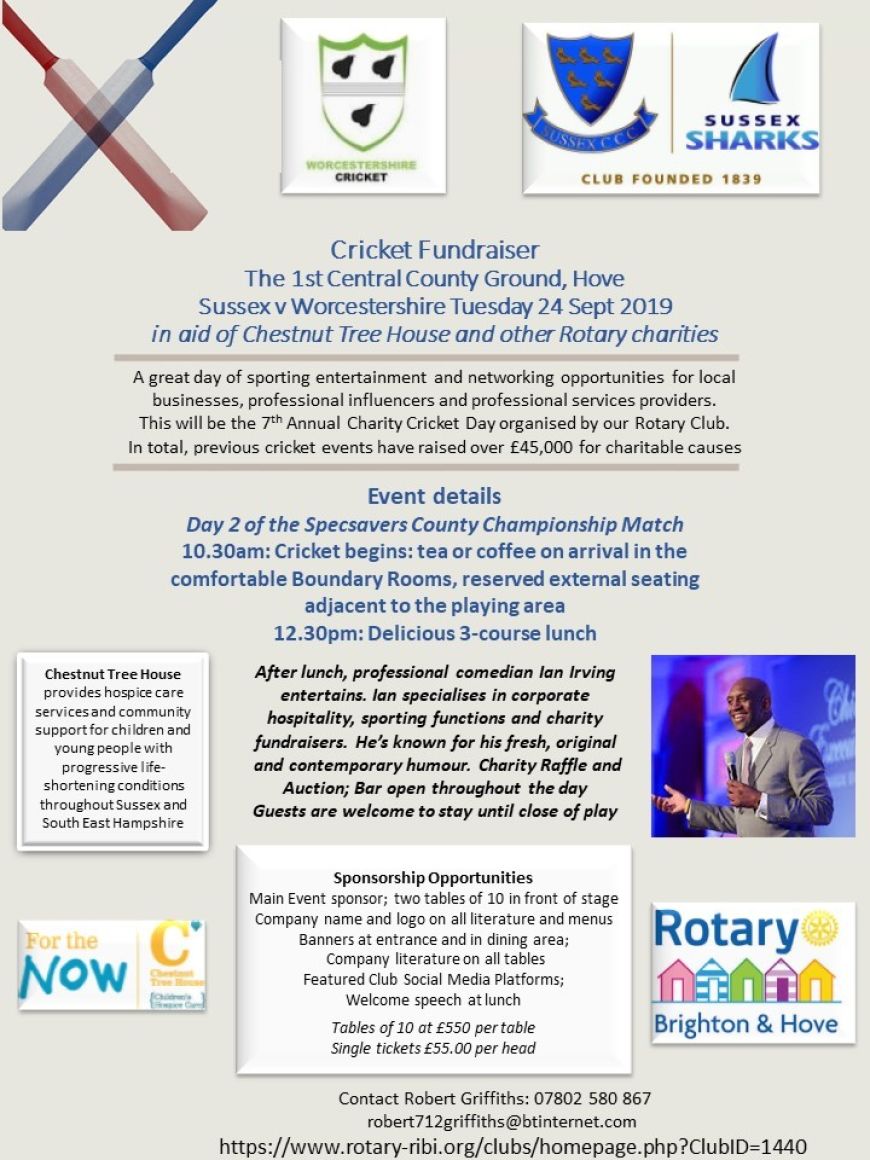 Time: 10.30am - 3.30pm
Date: Tue 24 / 09 / 19
Name: Brighton and Hove Soiree Corporate Fundraising Lunch
Venue: The 1st Central County Ground
Location: County Ground, Eaton Rd, Hove BN3 3AN, UK