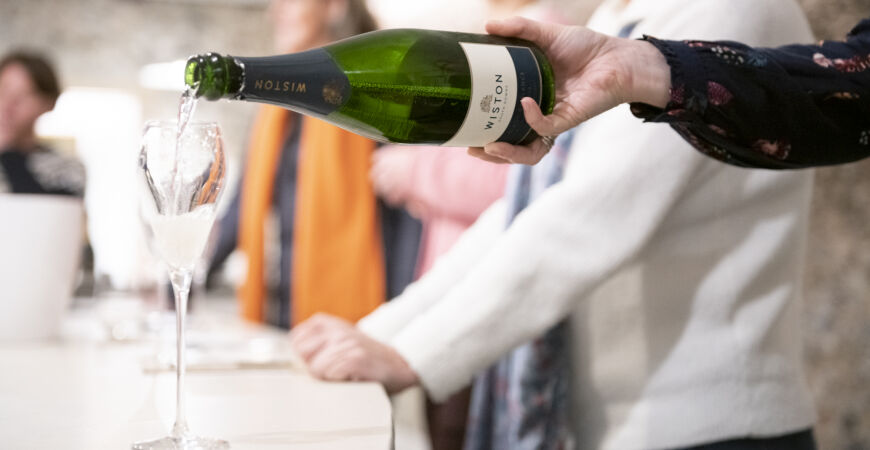 Wiston Estate is entering a new chapter in its history having opened Chalk Restaurant and the new winery to the public. But this is only one element of the estate which encompasses 6,000 acres of diverse regenerative farming, conservation projects, property restoration and businesses, close to the picturesque small town of Steyning.
After coffees and cookies Richard Goring, CEO of Wiston Estate, will talk about the complexities of running a rural estate with a purpose of transforming it into a place where people, nature and enterprise can all co-exist and flourish.
Listen to how an estate like Wiston can help drive rural entrepreneurship, protect and nurture its environment, provide for the local community, and still remain a sustainable business which can employ local people.
You'll have a chance to ask questions then have a behind the scenes tour including some of the backstage parts of the winery, hosted by the production team.
Vineyard tour and tasting
You'll see North Farm where the newly refurbished winery is opened to the public in March. Hear the story of the estate and learn about the surrounding vineyards.
You'll get a chance to walk through the winery taking in the traditional Champagne Coquard press, tank and barrel halls, and the event ends with a tutored tasting of a selection of award-winning Wiston wines in the new tasting room.
Then feel free to wander through the vineyards, enjoy the courtyard and restaurant at Chalk, or take advantage of the proximity to the South Downs and head out for a walk around the estate.
10:00 am – Arrive, tea, coffee, juice and cookies
10:15 am – Richard Goring's talk
10:35 am – Behind the scenes walk around with production manager
11:05 am to 12 pm– Vineyard tour and tasting
Bring comfy walking shoes and rainwear, just in case – and if you're going to have a tipple, there's a bus service from Steyning to Brighton and Hove!
"Our family has cared for this estate with its meadows, woodlands and buildings, and stewarded what it has produced since 1743. Kirsty and I feel passionate about nurturing this land and its communities so they continue to be a source of life for people, nature and enterprise."
– Richard Goring
Copy by: Chimera Communications
FAQs
What's the refund policy?
Places are limited, and events are usually oversubscribed. Please give two working days' notice via email for a refund* or you'll be required to pay for your place in full.*Eventbrite booking fees are non-refundable unless the event is cancelled or there are duplicate charges.
Can I attend if I am not a member of the Chamber?
If you have never been a member of the Chamber you can book and join as a guest at two of our events (just one Chamber Breakfast). After this, you will need to join the Chamber to enjoy the benefits of membership. If you'd like to join the Chamber you can find out more on our website.
How do I find out about other upcoming events and news?
To receive news about the Chamber and our events please sign up to our mailing list.
Time: 10am - 12pm
Date: Tue 21 / 06 / 22
Name: Behind the Scenes: Wiston Estate
Venue: Wiston Estate Winery and Chalk Restaurant
Location: Wiston Estate Winery, Pulborough, RH20 4BB
> Book now
Similar events