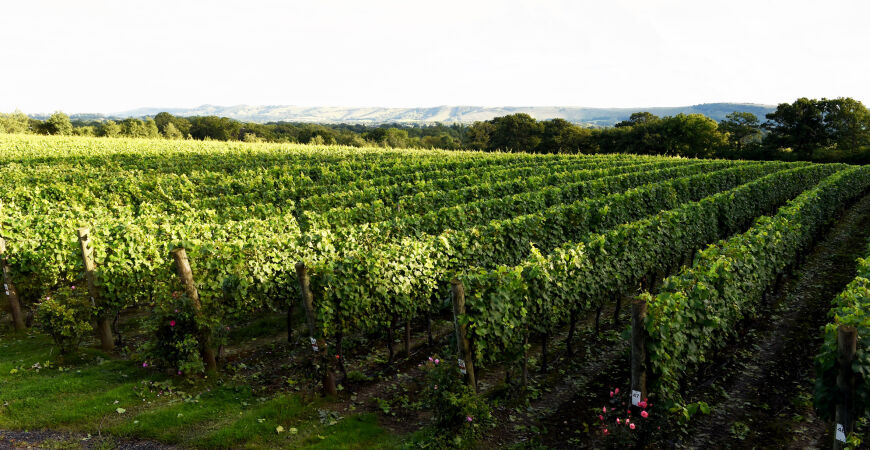 Celebrate English Wine Week with Brighton Chamber

A big cheers for English Wine Week! And another one for being able to meet for one of our first face-to-face events of the year (COVID-safe, of course).
Join us on a tour of Ridgeview in Ditchling, with gorgeous views overlooking the South Downs. Experience a behind the scenes journey, meeting the family behind the award-winning sparkling wines.
England is now a world player in the wine world, producing 10 million bottles a year. Ridgeview, established in 1995, are proud of their part in the historic rise of English sparkling wine.
Learn about the history of Ridgeview followed by an insight into the craft from vine to glass.
The visit will include a tour of the vineyard, winery and cellars. This will be followed by a tasting of four Ridgeview sparkling wines. The event will last for approximately 1.5 - 2 hours so book your ride home so you don't drink and drive!
Every bottle of Ridgeview has the message 'Life is for Celebrating' in its foil. Let's celebrate Brighton Chamber members being back together by raising a glass in the Ridgeview Wine Garden alongside those beautiful views over the vines.
"Wine is one of the most civilized things in the world and one of the most natural things of the world that has been brought to the greatest perfection, and it offers a greater range for enjoyment and appreciation than, possibly, any other purely sensory thing." ― Ernest Hemingway
We couldn't have put it better ourselves!
Copy by: Chimera Communications
FAQs
What's the refund policy?
Places are limited, and events are usually oversubscribed. Please give two working days' notice via email for a refund* or you'll be required to pay for your place in full.*Eventbrite booking fees are non-refundable unless the event is cancelled or there are duplicate charges.
Can I attend if I am not a member of the Chamber?
This event is for Chamber members only. If you'd like to join the Chamber you can find out more on our website.
How do I find out about other upcoming events and news?
To receive news about the Chamber and our events please sign up to our mailing list.
Time: 3.30pm - 5.30pm
Date: Wed 23 / 06 / 21
Name: Behind the Scenes: Ridgeview Winery (members only, in person)
Venue: Ridgeview Wine Estate
Location: Ditchling Common, Fragbarrow Lane, Hassocks, BN6 8TP
> Book now
Similar events