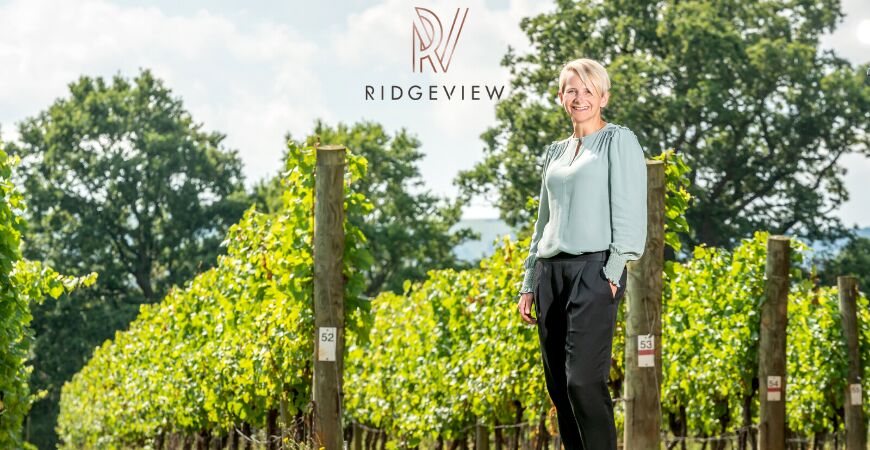 Virtual Tour and Tasting of Ridgeview Vineyard and Winery
Imagine wine tasting without having to find a lift home! You can't say we don't offer you something different and entertaining, here at the Chamber, even during lockdown.
Join us for a Virtual Behind the Scenes tour of Ridgeview Vineyard, Winery and Tasting Room, celebrating English Wine Week (20th – 28th June).
Naturally, we can't visit right now but we can learn what goes into making Ridgeview's award-winning sparkling wine, achieving the status of "International Winemakers of the Year" IWSC 2018.
Ridgeview CEO and Sussex Businessperson of the Year Tamara Roberts will lead the way on our tour. It'll be almost like you're there!
You'll begin in the vineyard, learn what's involved in the annual cycle of the vine, including protection from late spring frosts. Then you'll be guided into the impressive winery with its stainless-steel tanks and equipment and be steered through the process of taking the precious grapes and turning them into international award-winning wine.
One of our Behind the Scenes tours would not be complete without a tasting so your ticket price includes a bottle of Ridgeview Cavendish NV delivered direct to your door in time for us all to have a virtual tasting together to celebrate English Wine Week. And throughout the tour, you'll be able to ask questions.
What else can we say but – cheers, and enjoy!
Copy by Chimera Communications
FAQs
What's the refund policy?
Places are limited, and events are usually oversubscribed. Please give two working days' notice via email for a refund* or you'll be required to pay for your place in full.
*Eventbrite booking fees are non-refundable unless the event is cancelled or there are duplicate charges.
Can I attend if I am not a member of the Chamber?
Our Behind the Scenes events are member-only, if you'd like to join the Chamber you can find out more on our website.
How do I find out about other upcoming events and news?
To receive news about the Chamber and our events please sign up to our mailing list.
Time: 4pm - 5.30pm
Date: Thu 25 / 06 / 20
Name: Behind the Scenes: Ridgeview Vineyard and Winery (virtual)
> Book now
Similar events