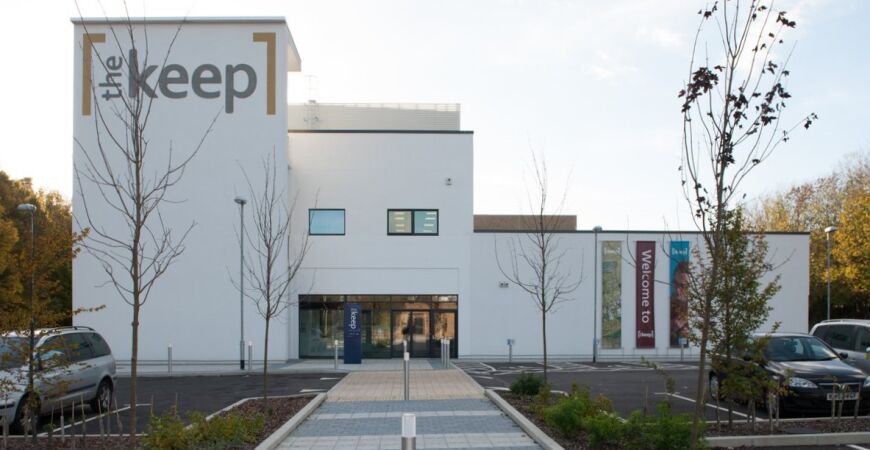 Behind the Scenes at The Keep, Brighton's historical archive

Have you ever wondered what's inside The Keep, how you might see the documents stored there and what you might find of interest to you and your business?
Join us on 20 September for an opportunity to meet some of the team who work at this state-of-the-art archive and historical resource centre. The Keep conserves and stores the records of The East Sussex Record Office, The University of Sussex Special Collections, and the Royal Pavilion and Museums Local History Collection
We'll be met by Lynn MacDonald, Development and Communications Officer at ESCC who will share with us a brief summary of the archive's 10-year history. We'll see the reading and references rooms and where the documents are stored. There'll be time to ask questions and find out how to use and search the Keep's website and growing catalogue.
Arrival time is 10am. There will be water and a vending machine only and you are welcome to bring a flask and a snack to have together on arrival or at the end in the welcome area.
The tour will finish at 11.30am.
FAQs
What's the refund policy?
Places are limited, and events are usually oversubscribed. Please give two working days' notice via email for a refund* or you'll be required to pay for your place in full.
*Eventbrite booking fees are non-refundable unless the event is cancelled or there are duplicate charges.
Can I attend if I am not a member of the Chamber?
If you have never been a member of the Chamber you can book and join as a guest at two of our events (just one Chamber Breakfast). After this, you will need to join the Chamber to enjoy the benefits of membership. If you'd like to join the Chamber you can find out more on our website.
How do I find out about other upcoming events and news?
To receive news about the Chamber and our events please sign up to our mailing list.
Time: 10am - 11.30am
Date: Wed 28 / 02 / 24
Name: Behind the Scenes at The Keep, Brighton's historical archive
Venue: The Keep
Location: Woollards Wy, Brighton and Hove, BN1 9BP
Tickets from: £15
> Book now